Eastern European nations set to lose billions of dollars in natural gas transit fees are lambasting western Europe for striking another pipeline deal with Russia that will circumvent Ukraine.
The prime ministers of Slovakia and Ukraine criticized an agreement between western European companies from Germany's EON AG to Paris-based Engie with Russian pipeline gas export monopoly Gazprom PJSC to expand a Baltic Sea link. Western European leaders and companies are "betraying" their eastern neighbors, Slovakia'sRobert Fico said after meeting Ukraine's Arseniy Yatsenyuk in the Slovak capital of Bratislava on Thursday.
Gazprom and EON, Engie, Royal Dutch Shell Plc, OMV AG and BASF SE signed an agreement last week to expand Nord Stream by 55 billion cubic meters a year, which would double its capacity to almost 30 percent of current EU demand. Ukraine, already struggling to avoid a default amid a conflict with Moscow-backed separatists in its east, is set to lose $2 billion a year in transit fees while Slovakia would lose hundreds of millions of euros, the leaders said.
"They are making idiots of us," Fico said. "You can't talk for months about how to stabilize the situation and then take a decision that puts Ukraine and Slovakia into an unenviable situation."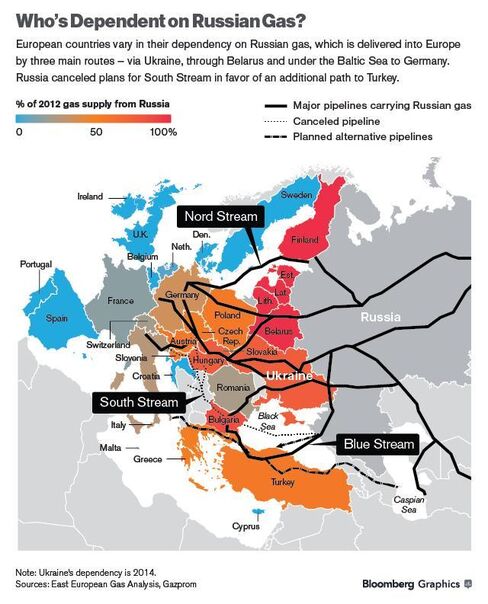 Russia is trying to cut how much gas it ships via Ukraine's Soviet-era pipelines as international courts arbitrate in pricing disputes between the nations, echoing spats that caused supplies to Europe to halt several times during the past decade. Russia currently ships about a third of its Europe-bound gas via Ukraine, down from about two-thirds in 2011, when the Nord Stream pipeline under the Baltic Sea started supplying Germany directly.
Nord Stream-2 is set to start supplying Europe in 2019, when the current agreement between Russia and Ukraine on gas transit ends.
The project completely neglects Polish interests and hurts the EU's unity in the face of Russian President Vladimir Putin's "aggression" in Ukraine, Polish President Andrzej Duda said on Wednesday. Ukraine's Yatsenyuk called the project "anti-Ukrainian and anti-European" on Thursday.
Parts of the European Union would face a "very complicated situation" if Russia stopped sending natural gas through Ukraine, European Commission Vice President for Energy Maros Sefcovic said on Thursday. He expects the Russians to provide more information on the Nord Stream-2 project, he said before meeting with Russian Energy Minister Alexander Novak and Gazprom CEO Alexey Miller in Vienna on Friday.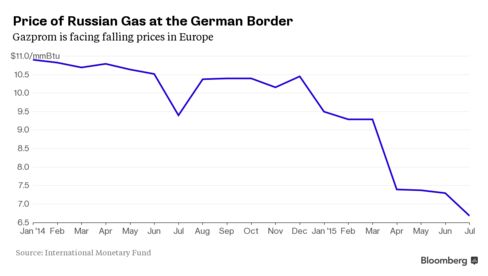 The EU doesn't have details of the two pipelines under the Nord Stream-2 project, European Commission energy spokeswoman Anna-Kaisa Itkonen said Friday. While the two links that form the original Nord Stream project were implemented in line with EU law, "the commission will ensure that if implemented, the project of Nord Stream Three and Four will fully comply with EU legislation, in particular with the third energy package, competition and public procurement rules," she said.
Nord Stream spokesman Ulrich Lissek declined to comment when reached by phone, as did Engie spokeswoman Patricia Marie and OMV spokesman Robert Lechner. Gazprom, EON and BASF didn't immediately respond to requests for comment.
Shell spokesman Jonathan French declined to comment beyond referring to an earlier statement by Chief Executive Officer Ben van Beurden that "new projects like Nord Stream-2 are needed to ensure that Europe's demand for energy is met, especially as gas production in Europe itself is falling."